How To Choose One Men's Joggers?
Apr 23,2023 | PoisonStreetWear
Are you looking for a versatile, stylish clothing item that can take you from the gym to the streets? Look no further than men's joggers! These pants are comfortable and functional for athletic activities, but they also offer a trendy and versatile look that can be dressed up or down for any occasion. Men's jogger pants are perfect for running errands, jogging, or hanging out with friends. In this article, we'll explore the many benefits of these pants, including their style, comfort, and versatility.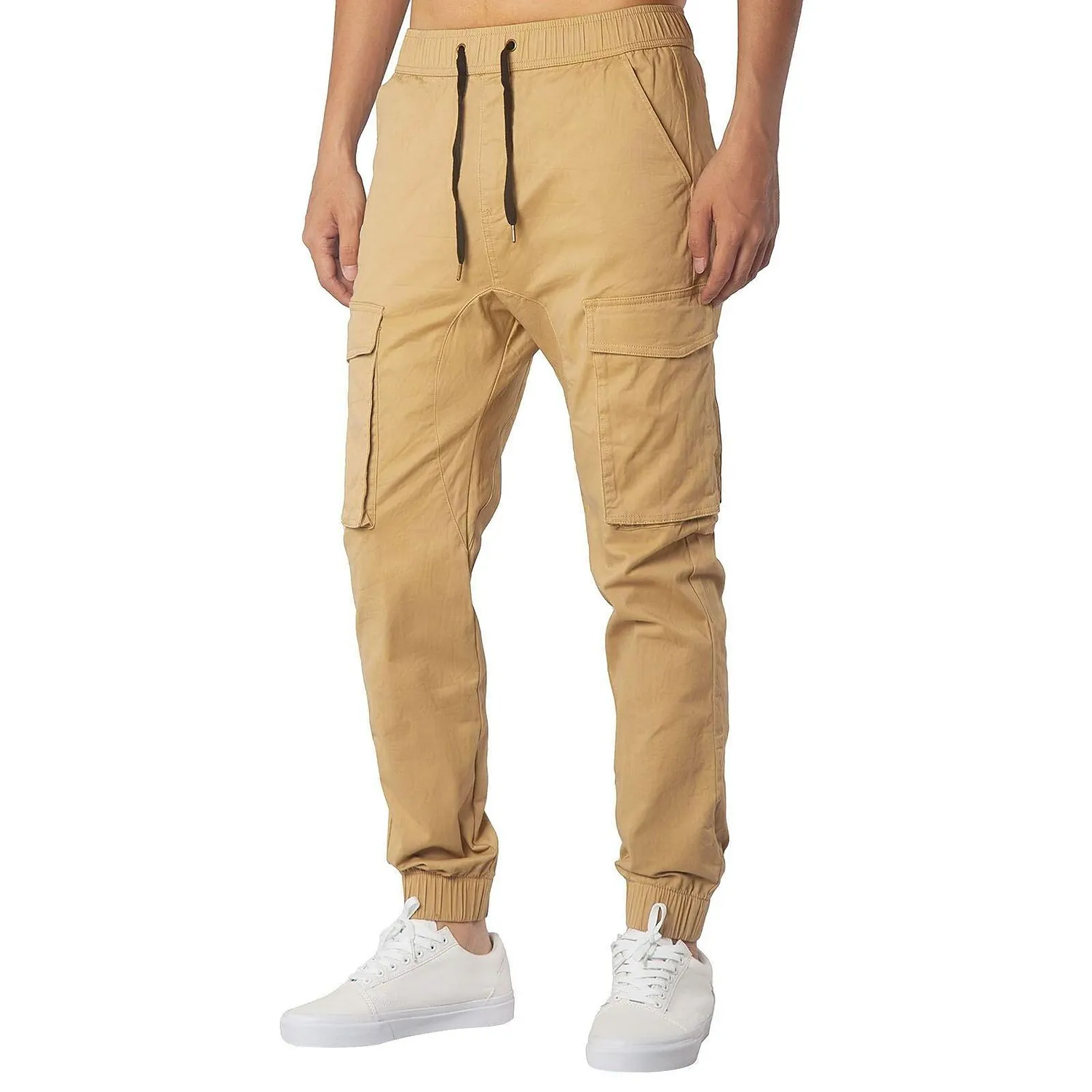 Men's Jogging Pants Styles and Features
Jogger pants are a versatile and trendy choice. Here are some key styles and features of this popular clothing item:
Styles:
Drawstring waist: Allows for a comfortable and adjustable fit
Elastic waistband: Provides a secure and snug fit
Slim fit: Offers a modern and stylish silhouette
Tapered leg: Creates a streamlined and sleek look
Cargo pockets: Adds functionality and a rugged touch
Features:
Comfortable fabric: Made from soft and breathable materials like cotton or polyester
Moisture-wicking: Helps to keep sweat away from the body, making them perfect for athletic activities
Stretchy: Provides flexibility and ease of movement
Durable: Can withstand wear and tear over time, making them a long-lasting investment
Versatile: Can be dressed up or down, making them suitable for a range of occasions and styles
Easy care: Often machine washable and low maintenance
Jogger pants can be styled in various ways, making them a great addition to any wardrobe. Pair them with a simple t-shirt and sneakers for a casual look, or dress them up with a button-down shirt and dress shoes for a more formal occasion. Whether running errands, hitting the gym or going out on the town, jogger pants are a versatile and stylish choice.
Occasions for Men's Jogging Pants
Men's jogger pants are a versatile clothing item worn for various occasions. Here are some critical situations where jogger pants are a perfect choice:
Casual outings: Whether running errands or meeting friends for lunch, jogger pants offer a comfortable and stylish option for a casual day out.
Athletic activities: These pants are designed with functionality in mind, making them perfect for workouts, yoga, or any other athletic training.
Travel: Jogger pants are easy to pack and can be worn for long flights or road trips. They offer both comfort and style for your travels.
Work: If your workplace has a relaxed dress code, jogger pants can be dressed in a button-down shirt and loafers for a smart-casual look.
Night out: For a night out on the town, pair jogger pants with a stylish jacket and dress shoes for a sophisticated yet comfortable look.
Outdoor activities: Whether you're hiking, camping, or fishing, jogger pants offer durability and functionality for any outdoor adventure.
Relaxing at home: Jogger pants are perfect for lounging around the house or running errands on the weekends. They offer a comfortable and casual option for downtime.
How to Match Men's Jogging Pants
When it comes to matching men's jogger pants, there are many ways to create a fashionable and put-together look. Here are some expert tips and ideas for how to pair jogger pants with other clothing items:
Casual look:
T-shirt: A classic choice that pairs well with jogger pants
Hoodie: Perfect for cooler weather or a more relaxed vibe
Denim jacket: Adds a stylish touch and contrasts nicely with the khaki color
Sneakers: Comfy and versatile footwear option
Sporty look:
Athletic top: Choose a breathable and moisture-wicking fabric for maximum comfort
Running shoes: Opt for a pair with good support and cushioning
Baseball cap: Practical and stylish accessory for outdoor activities
Smart casual look:
Button-down shirt: Dress up jogger pants with a collared shirt
Loafers: Adds sophistication to the outfit
Blazer: Elevates the look and adds structure
Watch: Adds a touch of luxury and style
Streetwear look:
Graphic tee: Choose a bold or trendy design for a standout look
High-top sneakers: Adds height and edge to the outfit
Bomber jacket: A classic piece of streetwear fashion
Backpack: Convenient and stylish way to carry essentials
Consider the occasion, weather, and personal style when putting together an outfit with jogger pants. With creativity and confidence, you can create a stylish, comfortable look that is uniquely yours.
How to Choose the Right Men's Jogging Pants for You
Choosing the right pair of men's jogger pants can make all the difference in comfort and style. Here are some essential factors to consider when selecting the perfect team:
Fit:
Slim fit: Offers a modern and stylish look but may be less comfortable for athletic activities
Regular fit: Provides a more relaxed and comfortable fit but may not be as sleek or trendy
Material: Choose pants made from high-quality, breathable fabrics like cotton or polyester to ensure comfort during activity
Waistband: Look for an elastic waistband or drawstring for an adjustable and secure fit
Style:
Color: Khaki is a classic and versatile option, but consider other colors that match your style
Pockets: Choose pants with enough pockets to hold your phone, keys, and other essentials while on the go
Tapered leg: Creates a streamlined and modern look, but make sure the pants are not too tight around the ankles
Brand: Choose a reputable brand that specializes in athletic wear for the best quality and performance
Functionality:
Athletic activities: Look for pants with moisture-wicking and quick-drying properties to keep you comfortable during intense exercise
Casual wear: Consider pants with a more relaxed fit and classic design that can be worn for a variety of occasions
Climate: Choose pants with appropriate thickness for the temperature and atmosphere of your location
Considering these factors, you can find the perfect pair of men's jogger pants that combine comfort, style, and functionality.
How to Care for Men's Jogging Pants
Proper maintenance is vital if you want your men's jogger pants to last for years. Here are some tips for how to care for and maintain your jogger pants:
Cleaning:
Always check the care label for specific instructions
Machine wash on a gentle cycle with similar colors
Use a mild detergent and avoid bleach or fabric softeners
Hang dry or tumble dry on low heat to prevent shrinking
Avoid ironing or dry cleaning, as these can damage the fabric and seams
Storage:
Fold jogger pants neatly and store them in a drawer or on a shelf
Avoid hanging, as this can stretch out the fabric and cause wrinkles
Keep jogger pants away from direct sunlight and heat, as these can cause fading and damage
Store jogger pants separately from items with zippers, buttons, or other hardware that can snag the fabric
Maintenance:
Remove stains as soon as possible using a stain remover or mild detergent
Repair any small tears or loose threads promptly to prevent further damage
Avoid wearing jogger pants for activities that may cause excessive wear and tear, such as hiking or rock climbing
Rotate your jogger pants with other items in your wardrobe to prevent overuse and extend their lifespan
By following these simple tips, you can ensure that your men's jogger pants stay looking great and performing well for years to come.
Pros and Cons of Men's Jogging Pants
As with any clothing item, there are both advantages and disadvantages to wearing men's jogger pants for running and other athletic activities. Here is a summary of some critical pros and cons:
Advantages:
Comfort: Jogger pants are made from soft and flexible materials that allow for movement and comfort during physical activity.
Style: Jogger pants are available in various colors and styles, making them a fashionable choice for athletic and casual wear.
Functionality: Many jogger pants feature pockets and other design elements that make them useful for storing small items like keys or a phone.
Versatility: Jogger pants can be dressed up or down, making them suitable for various occasions.
Disadvantages:
Material: Some jogger pants may be made from materials that are not breathable or that do not wick moisture away from the body, leading to discomfort and chafing during exercise.
Fit: Poorly fitting jogger pants may slide down or ride up during exercise, leading to discomfort or embarrassment.
Price: Some higher-end jogger pants can be expensive, making them less accessible to individuals on a tight budget.
Perception: Some individuals may view jogger pants as too casual or unprofessional, making them unsuitable for specific social or work situations.
Men's jogger pants can be an excellent choice for running and other athletic activities, offering comfort, style, and functionality. However, it's essential to consider the potential drawbacks and choose a pair that fits your needs well.
Comment